About Us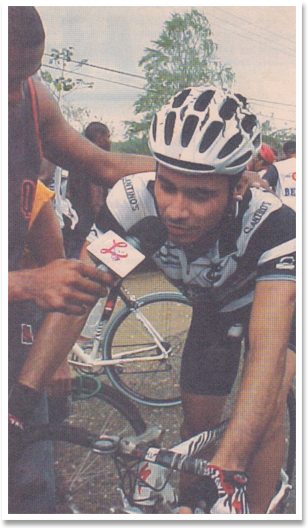 The Ariel Rosado Foundation was established to commemorate the life of an outstanding Belizean youth who lost his life in a traffic accident three weeks after completing his twenty eighth birthday. Ariel was a sterling role model for Belizeans of all ages inspiring many by example through his accomplishments in cycling and in education. He was a caring and compassionate person who many times put others before himself. A Steering Committee consisting of his family and friends decided that it was only fitting to commemorate Ariel's life by establishing a Foundation which would use the National Public Persona that Ariel had achieved to raise funds for use in assisting deserving Belizean youths to accomplish their educational goals while developing healthy minds in healthy bodies.
Ariel dominated junior cycling in Belize at ages fourteen and fifteen winning every junior race during that period. At age 15 Ariel realized that there was no challenge in the junior ranks and decided to start racing with the senior cyclists. At age 16 he surprised the Belizean cycling community by beating a field of 51 senior cyclists including foreigners to win the 2000 KREM New Years Cycling Classic. He went on to win every major cycling race in Belize except the Elite Cross Country Classic. At age 17 he travelled to the USA to race against 152 of the best Junior Cyclists in the USA to vie for a spot on the US National Junior Cycling Team. He did not qualify for the US National Team but gave a good account of himself placing 23rd, 24th and 60th in the qualifying races. In 2003 Ariel captured the Belize National Cycling Road Championship Title.
While participating in competitive cycling Ariel received his education at Grace Primary School, St. John's College and the University of Belize before taking a rest from cycling to successfully pursue his Bachelors in Law degree at the University of Guyana and then went on to read for a Masters Degree in Corporate and Commercial Law at the University of the West Indies in Barbados. He successfully completed the coursework and at the time of his death he had just completed his dissertation for the Masters Degree. He was awarded the Post Graduate Diploma in Corporate and Commercial Law posthumously by the University of the West Indies (Cave Hill campus) effective 21 March 2013.
The Foundation has been established to raise and manage funds to provide scholarships and sporting opportunities for deserving Belizean youths. The Foundation hopes to realize this goal through corporate sponsorship, individual donations, individual and corporate pledges, fundraising through the annual ride and by acting as a conduit to manage scholarships provided by individuals and corporations.
The main fund raising activity of the Foundation will be an annual ride to be held on the third Saturday after the Annual Cross Country Cycle Race.